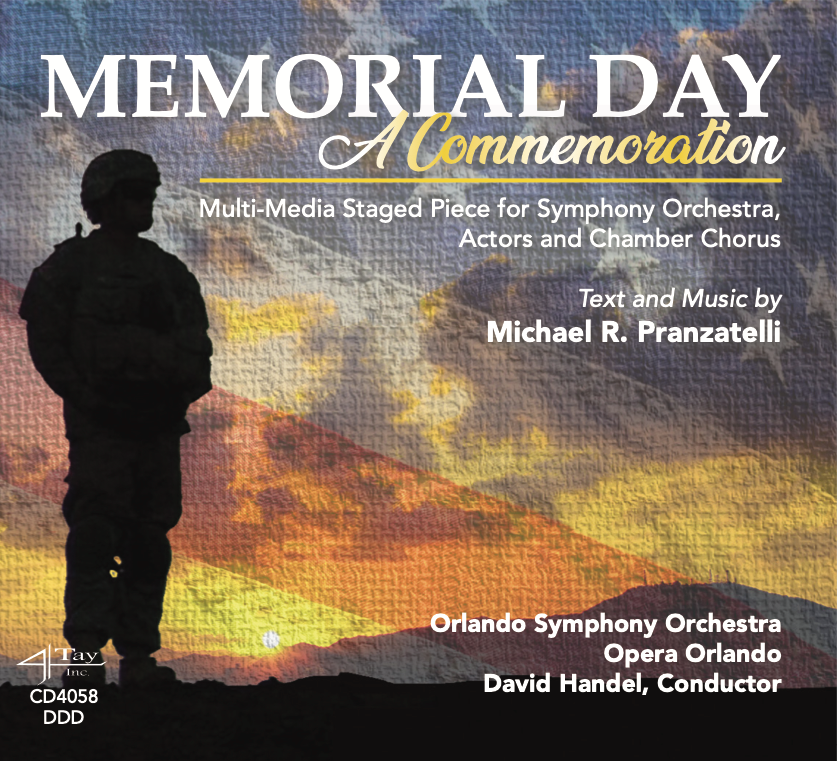 The Orlando Symphony Orchestra is pleased to announce the release of its latest recording, Memorial Day: A Commemoration by Michael R. Pranzatelli. A monumental multimedia work, Memorial Day is intended to be staged. It expresses the sensibilities of love and loss experienced by the soldiers and their families, of those fallen in American military conflicts. The composer's artistic objective was to return relevance and sobriety to the original intent of this national day of remembrance.
Approximately forty minutes in duration, the Memorial Day score calls for a large orchestral compliment and range instrumental timbres, twenty spoken parts, solo soprano and chorus. Opera Orlando participated in this recording for all of the vocal and spoken parts. The Department of Sound and Music Technology of Valencia College was, and continues to be an extraordinary partner.
In order to facilitate staged productions of Memorial Day, and considering possible limitations of disparate conditions, composer Michael R. Pranzatelli requested that separate recorded "splits" be available for the purpose of facilitating staged performances: 1) orchestra alone, 2) orchestra with chorus and no spoken parts, 3) the complete version of the score. All versions of Memorial Day: A Commemoration are available through 4Tay Records. All inquiries: jamesarts@att.net, www.jamesarts.com.