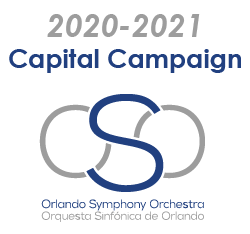 The Orlando Symphony Orchestra announces its 2020-21 Capital Campaign. Like most cultural organizations, the Orlando Symphony depends on the generous support of our public, institutional partners, local, state and corporate sponsors.
The objectives of the 2020-21 Campaign are: 1) to continue to grow the range of OSO activities and projects, regionally and internationally, 2) to underwrite the Orlando Symphony concert series at the Seminole State College, Center for the Fine and Performing Arts, and 3) to ensure the economic viability of Central Florida's longest performing professional orchestral organization over the long term.
The Orlando Symphony Orchestra is a legally established 501(c)3 entity. All contributions are tax deductible. Contributions can be made online by clicking here or visiting www.orlandosymphony.org "Support Your Symphony."
By sharing this campaign, you are contributing to the cultural vibrance of Central Florida and the sustainability of great orchestral music in the region.