December 2018
Orlando Symphony Orchestra partners with Seminole State College, Center for the Fine and Performing Arts.
October 2018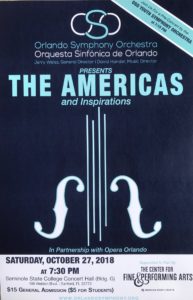 On October 27th at 7:30 pm, the OSO will perform a program featuring music by composers from the Americas as well as European masters.  The concert will include works by Mozart, Verdi, Chapi, Piazzolla, Copland, Handel, Bernstein, Villa Lobos and Glinka. In collaboration with Opera Orlando, Arleen Ramirez and John Murray will perform as soloists. There will be a pre-concert performance by the OSO Youth Symphony at 7:15 pm.  The performance will take place at the Seminole State College, Center for The Fine and Performing Arts. Admission $15 for adults and $5 for students, general admission.
April, 2018
David Handel has been appointed Music Director of the Orlando Symphony Orchestra. As we look forward to many new projects and artistic achievements, we welcome David to the OSO family. To learn more about the Maestro, visit www.davidhandel.info.